Mortgage rates continued to climb higher this week, marking the sixth consecutive week for borrowing cost increases for home shoppers.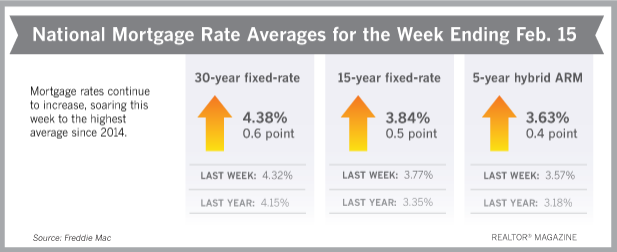 You may be asking yourself, What does this exactly mean for me? This could mean a lot of things but what you need to be concerned with is your buying power may have just dropped.
Every .25% increase in interest rates is about a $28 per month increase on a $200,000 loan

Mortgage rates are impacted by the sale of an investment product called a mortgage back security or a mortgage bond.  As the price of those bonds move up and down, that's what makes rates move up and down

One of the reasons for the recent increase in mortgage rates is tax reform.  Tax reform can cause certain types of inflation which is bad for investments products like mortgage bonds.

As our economy continues to improve mortgage rates will, generally speaking move higher.
I'm not writing this to scare anyone, I want you to be informed while you're on your way to Homeownership. Here are some other articles that I've wrote over the years of being in real estate regarding the interest rates
If you have questions finding that right mortgage that is the most beneficial to you, Please don't hesitate to call or text me.